Find below a list of the research I am currently completing or that has been recently published.
"Migration and the Equilibrium Prevalence of Infectious Diseases", working paper with Alice Mesnard, available here.
"How Does Ranking Affect User Choice in Online Search?", working paper with Mark Glick, Greg Richards and Margarita Sapozhnikov, available here.
"Cooperation Against Theft: A Test of Incentives for Water Management in Tunisia" (with Wided Mattoussi), forthcoming in American Journal of Agricultural Economics 2013. Available here.
Scott Morton, Fiona and Seabright, Paul, 2013 "Research into biomarkers: how does drug procurement affect the design of clinical trials?" Health Management, Policy and Innovation 1(3): 1-15. Available here.
Professional Networks and their Coevolution with Executives' Careers: Evidence from Europe and the US (with Nicoletta Berardi). Working paper, available here. Figure 1 above, drawn from that paper, shows how executives with larger networks are more likely to move between firms.
"Soviet Power Plus Electrification: what is the long-run legacy of communism?" (with Wendy Carlin and Mark Schaffer). Available here, published in Explorations in Economic History 2012. http://dx.doi.org/10.1016/j.eeh.2012.07.003

"The Three Musketeers: What Do We Still Need to Know About our Passage through Prehistory?", Biological Theory, 2012, doi: 10.1007/s13752-012-0017-7 Available at SpringerLink OR [Download PDF of proof copy] [ Download PDF of related article by Sterelny ]
"The Birth of Hierarchy", in Calcott et al (2013 forthcoming): Cooperation and its Evolution, MIT Press. PDF available here.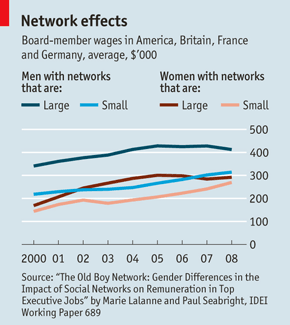 "The Old Boy Network: Gender Differences in the Impact of Social Networks on Remuneration in Top Executive Jobs", IDEI Working Paper, no. 689, octobre 2011 (with Marie Lalanne), revised September 2012.